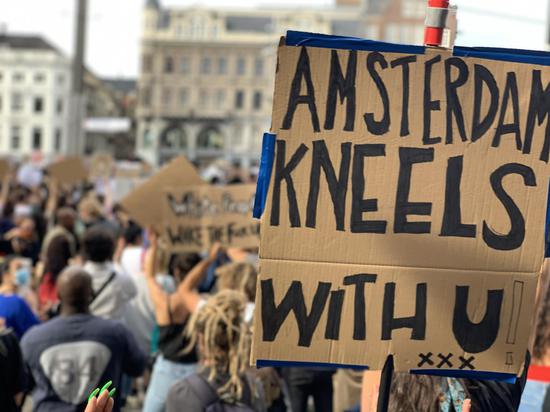 Around 5,000 people attended a Black Lives Matter protest in Amsterdam on Monday. (Stefan de Vries/CGTN)
Around 5,000 people gathered in Amsterdam's Dam Square on Monday to protest against police brutality in the U.S. and Europe.
The protests follow the death of a black American, George Floyd, in the city of Minneapolis on 25 May. The 46-year-old died of asphyxiation in police custody after a white police officer had knelt on his neck for nearly nine minutes.
Several Dutch anti-racism groups organized the protest after other European cities had done the same. Demonstrators were carrying signs bearing slogans such as "Black Lives Matter" and "White Silence = Complicity."
In America, protests have been marred by violence between citizens and police, but a spokesman for the municipality of Amsterdam said the rally was peaceful and passed without conflict.
The Dutch Health Authority, RIVM, attempted to impose social-distancing measures prior to the protest by advising people to maintain a 1.5 meter safety distance.
Due to the unexpectedly high attendance, this was not possible. But the majority of the protesters were seen wearing protective face masks.
A spokesperson for the Amsterdam OLVG hospital said he feared the protests could spark a new wave of COVID-19 cases because of the lack of social distancing.
There were also demonstrations in Paris, where dozens of anti-racist campaigners joined a rally against police brutality outside the U.S. embassy on Monday.
The demonstrators knelt on one knee – the symbolic gesture common to many of the protests across the world.
They also held up posters and placards with messages such as "we are all George Floyd," and "Floyd in the United States, Traoré in France."
The latter of those messages is a reference to Adama Traoré, a black man who died of asphyxiation while in police custody in 2016.
A campaign calling for justice for the 24-year-old has been ongoing in France since his death.
The link between the two deaths is a reminder that the situation is not unique to the U.S. when it comes to police brutality and profiling and the demonstrations in Paris and Amsterdam illustrate the growing protest movement in Europe in support of those calling for justice across the U.S..